Reunited
Tripawds is a user-supported community. Thank you for your support!
PHEW!!! It's as if the second our plane touched down from Vegas we've been at a dead run with the baby, the dogs and the 4th of July!! Things have finally settled and I am so happy to be home with my big guy. He was so excited to see me when I walked in the door. I immediately got on the floor with him and I hugged him tight, scratched his belly, gave and received tons of kisses!! He was spoiled while I was gone. His grandma put his pills in Pill Pockets so now when he gets his meds he spits out the Gabapentin tablets, as if I won't pick it up and pill him myself….he acts like I don't do that for a living 🙂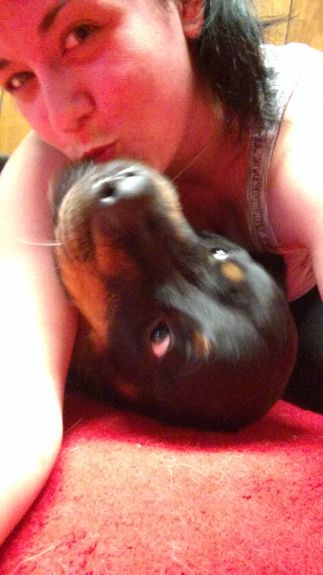 I was back at work almost immediately after our vacation. Odin still tries to follow me out the door in the morning. I find it funny but also some what sad. He has grown so accustomed to heading to the clinic with me for the last 7 months he just assumes when I walk by in my scrubs that he is going with me. I asked him why he even wanted to go considering every time he falls asleep and something weird happens. The guilt still creeps in a little. He has devoted his entire life to me and even though, deep down, I know everything I do to him and every decision I make is in his best interest I still feel guilty.
I look at him and sometimes wonder what it's going to be like when he isn't here anymore. It won't be for a long while, but I need to be realistic. I've had rottweilers my entire life. My first rottie was named Deuce, he died when I was 5 years old and he was only 8. His passing was my first experience with death. Then 3 years later we welcomed Merlyn to the family. He was hands down the most amazing dog on the face of the planet. There are no words to describe him. If you are familiar with the children's book series Carl then you know that when I say Merlyn was our neighborhood's 'Carl' you know that he was a good boy. He lived to the amazing age of 13, which is nearly unheard of for this breed.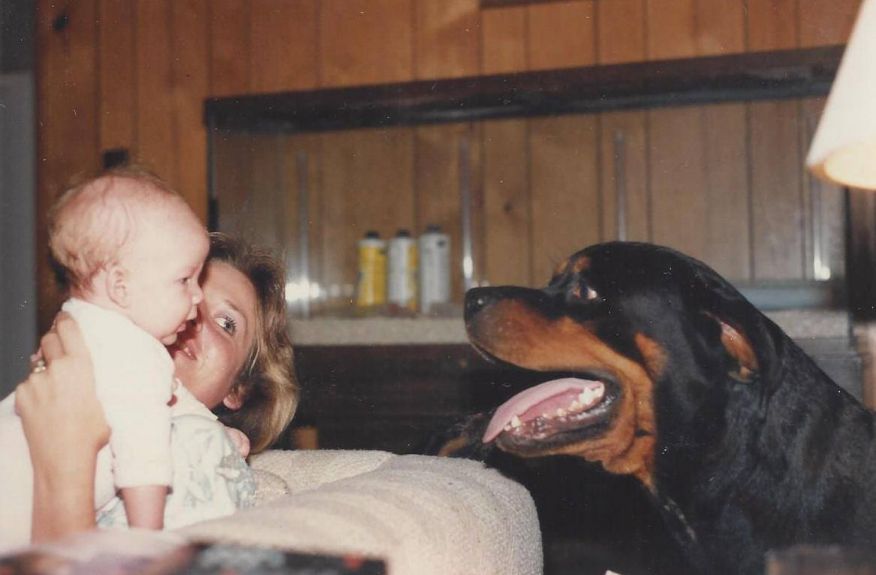 (Deuce and baby me)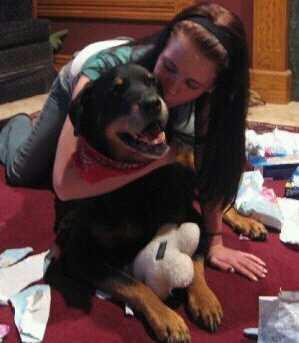 (Merlyn and I Christmas Eve of 2008)
Odin spent his first 2 years growing up with Merlyn and took on a lot of his traits so when my mom said she would never again be able to have another rottweiler, I totally understood. These dogs have an amazing way of slamming their way into your heart. Merlyn's death rocked our family. I felt I had lost a brother. That is why I think about Odin eventually passing away. I feel I need to prepare myself because I know it will be 10,000 times harder on me than when Merlyn crossed the rainbow bridge.  I'm finally to the acceptance stage of his diagnosis. I've been in denial for months, but looking at his histopathology report and the pictures they sent of the cancerous cells I've accepted it. He won't be here forever so I'm going to love him as much as I can before he decides to join the boys on the other side.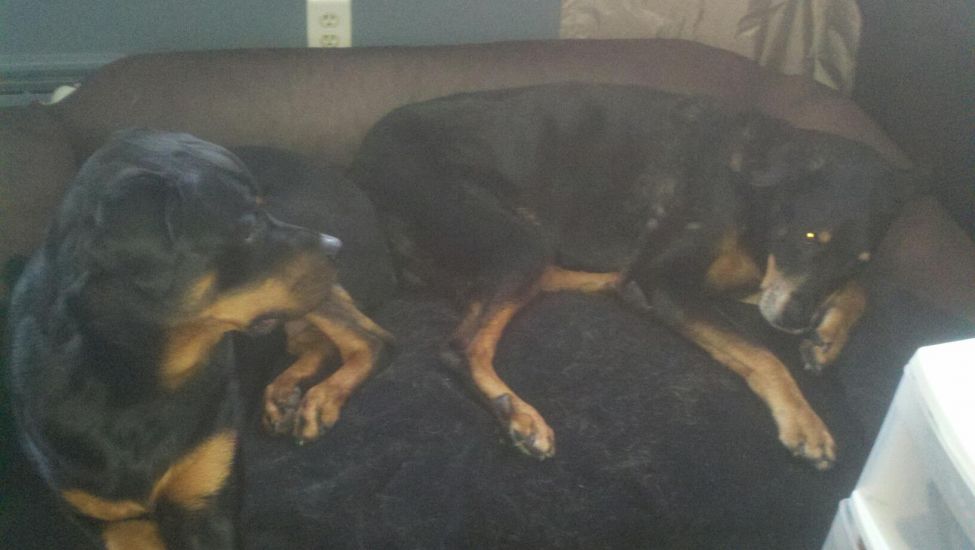 (Odin and Merlyn sharing a bed)
Odin is making amazing strides in his recovery. He has fallen twice since I've been home, but no more yelping. He's back up within seconds and keeps on moving. He has snuck down the stairs a few times and I've had to help him back up, he hasn't quite mastered that. He did get a hold of a ball and 'ran' a few laps around the couch. You could tell he thought he was going so fast, but he really wasn't. The sweetest part of it was that the other two pups chased him as his pace. He looked so happy all I could do was laugh at him. I wish I could see the world through his eyes.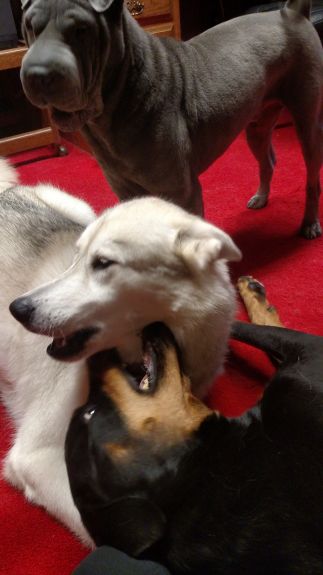 This entry was posted on Tuesday, July 11th, 2017 at 1:51 am and is filed under Uncategorized. You can follow any responses to this entry through the RSS 2.0 feed. You can skip to the end and leave a response. Pinging is currently not allowed.